Board Members
Eva Marlatt, EdD has been in education for over 20 years, with teaching experience at all levels from pre-school to college. She holds special education and administrative credentials, a master's in foreign language acquisition, an MBA, a master's in Special Education, and a doctorate in Educational Leadership. Eva currently serves both as Learning Specialist and as Curriculum & Instruction Coordinator at the Berkeley Adult School. Prior to that, she was the Director of Strategic Initiatives for the educational non-profit Citizen Schools, which supports underserved and underfunded public middle schools. Eva owns an educational consulting practice where she specializes in supporting students with atypical learning profiles and their families through academic coaching, college counseling, and school advocacy. As co-founder and current Executive Director, Eva's involvement in AccessED represents her commitment to the value of education as a universal right in a diverse society.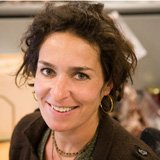 Adina Nyström has a son and a Viszla with similar energy, temperaments, and beauty, whose names she regularly confuses. She is an interaction and web designer with experience designing complex consumer internet products since 2001. Originally from Belgium, now a proud American, she's lived on four continents, is fluent in French, English, Spanish and Farsi. With a B.S. in Geophysical Engineering from the Colorado School of Mines, strong problem solving skills, and a keen eye for details, she is now the director of operations for AccessEd and its bookkeeper. She strongly believes in equal education for children; volunteering at AccessEd is her way to make a difference, and bring a little goodness to the community.
"If we want America to lead in the 21st century, nothing is more important than giving everyone the best education possible — from the day they start preschool to the day they start their career." —President Barack Obama
Tatiana Guerreiro Ramos graduated Cum Laude, too many years ago to count, from Monmouth University, where her mother taught Political Science. With a B.A. in Communications in hand, Tatiana headed off to New York City, where she worked in advertising for many years, most of them as a creative department manager. Following 9/11, Tatiana decided a career change was in order, and followed in her parents' footsteps to become a teacher. After just a year in a third-grade classroom, Tatiana found herself in a family way and she and her husband decided she would stay home with their son. Almost a decade later, Tatiana is thrilled to be back in a teaching role. Her strengths are supporting K-8 students in math, language arts, humanities and foreign languages. A polyglot (English, Portuguese, French and Spanish) and a three-time National Memory Champion (the only woman to win the US Memoriad in its 15-year history), Tatiana enjoys crosswords, KenKen, keeping up with the news from her home country of Brazil, writing, and, most of all, spending tme with her children.
Karen Hobbs, Ph.D., is a graduate of UC Davis and the California School of Professional Psychology. Since 1982 Dr. Hobbs has specialized in adolescent and child psychology. She is the co-founder of Tilden Preparatory School and has worked as a Director (starting in 2020, transitioned to Board Chair) of Tilden Preparatory School since 2006. Prior to starting Tilden Preparatory School, Dr. Hobbs worked in private practice, and as a crisis counselor at an East Bay high school, participating in numerous IEP meetings and working with guidance counselors and teachers to help students succeed in school. Dr. Hobbs serves on the Board of Mydigitaltat2, an organization that empowers students, families, and educators to understand the power of technology and the impact of their online presence. Dr. Hobbs has three children, two well-loved dogs, and she is an enthusiastic road bike rider.
Karen Hobbs, Ph.D.
Co-Director
Tilden Preparatory School
510.525.5506
1karenhobbs@gmail.com
Alisa Pickett earned a B.A. in Sociology with a minor in Child Development from Tufts University in Medford, MA. Later, she received an M.A. in Higher Education & Student Affairs from the University of San Francisco. During her studies, Alisa had the opportunity to be Team Leader for the Americorps Jumpstart program where she learned the power of individualized attention in education. She also balanced being the Captain of the Step Team, various internships in education, and volunteer work in the neighboring communities that taught her how to lead with love, empathy, and passion. She utilized these skills as an Admissions Officer at an art & design university for a number of years. Alisa currently serves as the Director of Outreach for Fusion Academy where she acts as the bridge between Bay Area families and the greater professional community, ensuring that each family has the educational and mental health supports they need. In Alisa's spare time, she enjoys spending time with her partner and 2-year-old Maverick, traveling, and figuring out how to use new kitchen gadgets.
Alisa Pickett
Director of Admissions and Outreach
510.292.4104 Office
510.459.0119 Cell
apickett@fusionacademy.com